A unique, fastest and most ergonomic way to build or modernize an energy-efficient booster set. To be used with every kind eg. borehole, submersible or surface (self-priming of multistage) pump. All the important features designed to be the world's most compact solution and easy to install with "in-line"' connections with kit included adapters. Make your own VFD booster set in 15 minutes!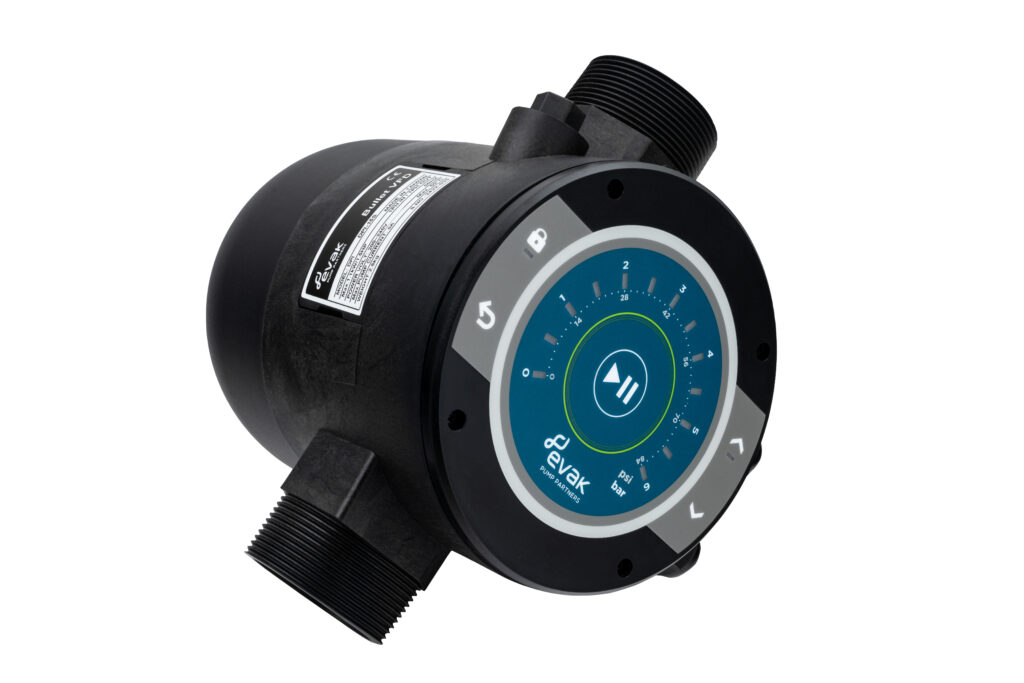 DPI Bullet VFD is the world's first all-in-one & in-line inverter pump manager to upgrade and manage most of the water pumps. It provides constant water pressure, and saves energy for most kinds
of water usage. The product is integrated with all the required functionalities of a
conventional inverter booster pump.
With this design, the assembly time & cost of an inverter booster pump are significantly reduced,
which sets up a new industry standard.
Important features:
All-In-One: Integrate all the required functionalities of a conventional inverter booster pump
In-Line design: Easier assembling for time-saving
One-For-AII: Adapt to most types and brands of water pump, for example peripheral pump, vertical multistage, borehole pump, centrifugal single-stage, multistage pump, self-priming pump

Intuitive interface: Smarter setting and indication for pressure & error status
Constant water pressure: Better water usage experience
Energy saving up to 50%: Lower electricity bill and eco-friendly
Lower operating noise: Good night sleep and better life
Work in multiple directions: Flexible installation + pipework
Integrated equipment:
Interactive control Panel – intuitive interface for smarter setting, and indication for pressure & error status
VFD / VSD Inverter & Pump Protector – Provide variable speed, constant water pressure, soft start & stop, energy saving and wide protection for water pump and piping
High-quality pressure sensor for precise + longevity operation of VFD
Flow Switch to achieve stable operation even at 2L/min(0.53GPM) water usage (this is better and more reliable solution than usual VFD solutions without flow switch)
Built in Check Valve – durable non-return check valve to prevent back flowing and water hammer damage
Integrated Pressure Tank (!) rechargeable 0.6L stainless steel 304 pressure tank to prevent pump short cycling and water hammer damage.

The inverter doesn't need additional pressure tank

Union Pipe Connector with adapters – standard connectors are M1"(25mm), 1-1/4"(32mm), 1-1/2"(38mm), and a longer type M1"(25mm) for taller electric box and surface motors
Power cord – for the power with EU Schuko plug (1.5meter length, for the pump 0.5m with "Y" connectors to connect with the motor or junction box)
Just need to install on the pump and get ready to make your booster energy-efficient and comfortable!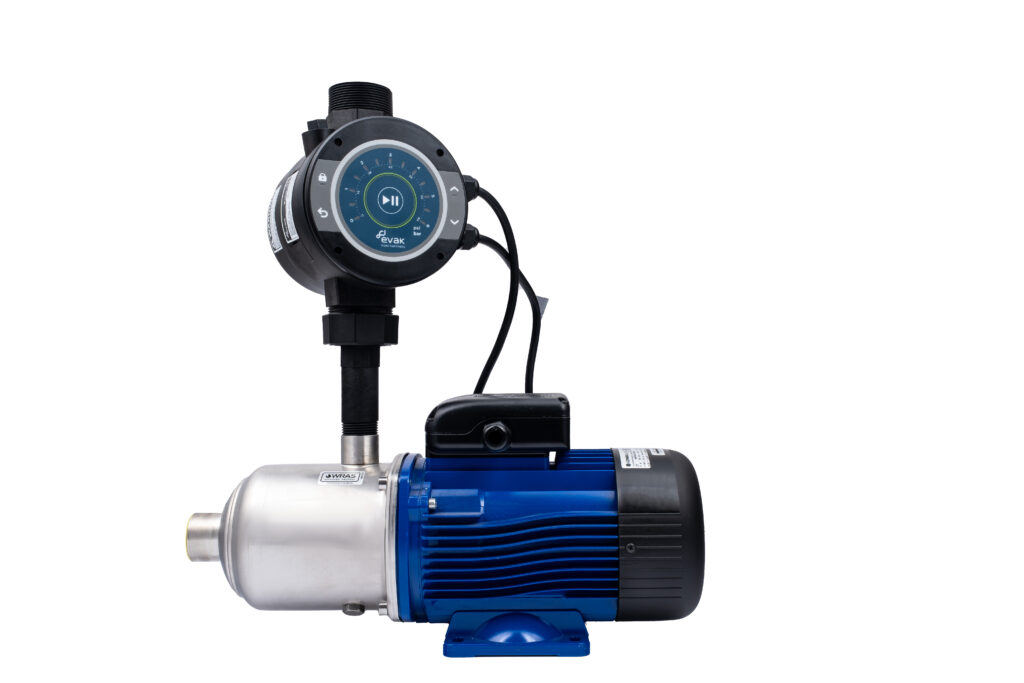 Included pump protections:
Over current protection (against overload, pump bearings failure or working over the pump caracteristics curve)
Over and low voltage protection (when power supply fail)
Locked rotor protection (when pump blocked, to protect the motor before burn)
Phase failure protection (when power supply fail)
Excess temperature protection (when water too hot)
Dry running protection (when pump working dry)
Leakage warning (alarm, when found installation leakage symptomps)
Over pressure protection
Anti-freezing protection (when temperature goes dwon below 2 degree Celsius)
Technical Data:
Pressure setting range
1bar~6bar (14psi~84psi)
Variable frequency range
50Hz:
1 phase out :35Hz~50Hz
3 phase out :30Hz~50Hz
60Hz:
1 phase out :35Hz~60Hz
3 phase out :30Hz~60Hz
Maximum system total pressure
10bar (145psi)
Ingress Protection
IP 55
Maximum water temperature
50˚C (122˚F)
Maximum ambient temperature
50˚C (122˚F)
Maximum flow
300L/min (79.3GPM)
Inlet/Outlet thread
»Standard M1"(25mm),1-1/4"(32mm), 1-1/2"(38mm),and a longer M1"(25mm) for taller junction box
» Dimension without union pipe connector(LxWxH): 230mmx170mmx230mm(9.1"x6.7"9.1")
» Package Size(LxWxH): 250mmx250mmx240mm (9.9"x9.9"x9.5")
Available models:
Important notice for DPI-15 and DPI-20 models (for 3phase pumps only): please double check to be sure that your pump motor is suitable to work with the 3x230V power configuration (this is very important when working with borehole pump motors)
Model
Max. pump power
Max. pump current
Absorbed current
Power in
Power out
DPI-15
(for 3~ pump)
1.1 kW
6 A
10A
1x230V
(200-240V) 50Hz
3x230V
(200-240V) 50Hz
DPI-20
(for 3~ pump)
1.5 kW
8A
15A
1x230V
(200-240V) 50Hz
3x230V
(200-240V) 50Hz
DPI-10S
(for 1~ pump)
0.75 kW
6A
9A
1x230V
(200-240V) 50Hz
1x230V
(200-240V) 50Hz
DPI-15S
(for 1~ pump)
1.1 kW
8A
13A
1x230V
(200-240V) 50Hz
1x230V
(200-240V) 50Hz
EVAK DPI pump controller with integrated inverter/VFD data chart
EVAK DPI controller with variable drive and integrated pressure tank related documents (manual, brochure):
Product gallery: